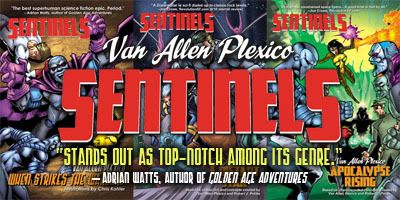 Pre-order
the exciting small press reissue of Van Allen Plexico's highly praised superhero novel series
SENTINELS
(Vols. 1 - 3)!
Sentinels: When Strikes the Warlord
Ultraa... Pulsar... Vanadium... Esro Brachis... Who are the Sentinels? From the moment Lyn Li foils an attempt to kidnap her from her own college campus, she is plunged into a new world, and a new life. Working--and battling--alongside a brilliant inventor, a famous super hero, and an enigmatic alien powerhouse, Lyn will confront the monstrous menace of the Warlord and his minions. When at last they clash atop his vast, floating city, can the world itself survive? Equal parts old-fashioned pulp adventure, comics-style super hero action, and science fiction wonderment, SENTINELS: WHEN STRIKES THE WARLORD has something for everyone who enjoys a brisk, fast-paced journey into excitement.
(
$14.95 - Available June 2008)
Sentinels: A Distant Star
After helping to save the world, all Esro Brachis wanted was a little peace and quiet. Then the giant robot attacked. And the alien warships landed in his back yard. And then things got really crazy. At least he has a beautiful alien warrior woman at his side--if only she didn't want to kill him! SENTINELS: A DISTANT STAR continues the journey and the excitement in a bigger, bolder adventure, with all your favorite heroes and villains back for more... and with many new wonders to encounter!
(
$14.95 - Available July 2008)
Sentinels: Apocalypse Rising
Menaced by no fewer than three alien invasion forces, the Earth cries out for its heroes. But the Sentinels have vanished! And now Pulsar stands alone, down but not defeated, and determined to rescue her teammates... and her world. APOCALYPSE RISING is a dynamic and gripping novel in its own right--and the climactic chapter in the Sentinels saga!
(
$14.95 - Available August 2008)
Pre-order all 3 novels with

free shipping

from Swarm Press now!